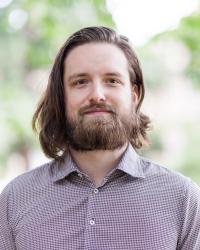 Contact Information
Office Hours:
Autumn 2020: Th 10:30 – 11:20 (or by appointment)
Biography
M.A., Scandinavian Area Studies, UW, 2020
Mg. hum., Baltic Sea Regional Studies, University of Latvia, 2016
B.A., Norwegian, UW, 2014
B.S., Psychology, UW, 2014
Hei! Sveiki! I am the pre-doctoral Norwegian instructor for the Scandinavian Studies department for the 2020 academic year.
My research looks at the rhetoric of democracy of the Baltic-Nordic region.
During my undergraduate studies (also here at UW), I studied abroad in two cities in Norway (Oslo in 2011 and Trondheim in 2013). After graduating in 2014, I served as a Fulbright ETA in Latvia for a year, after which I decided to stay in the country for another three years. During this time, I completed a Master's in Baltic Sea Regional Studies at the University of Latvia in Riga, writing a thesis that deals with the circumstances of attitudes towards Muslim immigration in my countries of expertise.
In my free time, I am a musician taking full advantage of Seattle's vibrant underground. I play guitar in one band, bass in another, and also am quite fond of my Turkish bağlama (a type of lute). Although my primary formal interest as scholar is not music, it is without question the thing that sparked my interest in the region in the first place. I'm always happy to recommend an album or ten.
Autumn 2021
Spring 2021
Winter 2021
Additional Courses
SCAND 100: Introduction to Scandinavian Culture, Autumn 2018
SCAND 230: Introduction to Folklore Studies, Winter 2019
SCAND 232: Hans Christian Andersen and the Fairy Tale Tradition, Spring 2019
Professional Affiliations:
Society of Historians of Scandinavia (SHS)