Pictured above: 2009-2010 Danish fellows, Anders Frellsen, (Copenhagen) Christian Rosen (Aarhus), Nils Koch Jensen (CBS), Marco Berenthz (Royal Academy). Sofie Dalgaard-Jorgensen (Copenhagen), Peter Sorknaes (Aalborg).
The Scan|Design Foundation by Inger & Jens Bruun sponsors Danish graduate and advanced undergraduate students to study at the University of Washington.
A partial list of past recipients appears below.
2009-2010
Marco Kristoffer Berenthz Royal Danish Academy of Fine Arts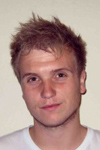 In Denmark Marco is a graduate student at the Royal Danish Academy of Fine Arts, School of Architecture in Copenhagen, having just been admitted after completing his Danish Bachelor's degree in the summer of 2009. Marco is now spending the first year of his graduate studies here at the UW as a ScanDesign fellow in College of Built Environments, Department of Architecture. He is also looking forward to the challenge of intensive classes on subjects relating to sustainability. First and foremost he is excited to study architecture through a different cultural perspective.
Inge Revsbech Aarhus University
Inge has always been very interested in nature, coming out of a family with a farming background. She therefore chose to study general biology, where she wishes to specialize in neurology. She has also studied scientific journalism.
Nils Koch Copenhagen Business School
Nils is an MBA student at Copenhagen Business School and is particularly focusing on marketing and corporate strategy.
Peter Sorknæs Aalborg University
Peter is studying Sustainable Energy Planning and Management at Aalborg University, where the focus is on implementing more sustainable solutions, e.g. wind turbines, into local/regional/national energy systems. He will be studying the US approach to this topics at UW to get a different view of the different problems and opportunities within the field.