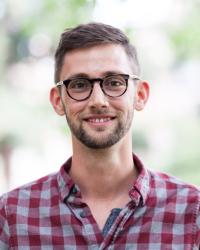 Biography
B.A., German, Scandinavian & Dutch, University of Minnesota, 2017
I focus on poetry in any and all forms, in any and all languages, as well as the intersections of poetry and philosophy (particularly existentialism and phenomenology). I am interested in how poetry responds to contemporary existential and social issues (particularly climate and environmental crises and critical race studies), the (multi)temporality of poems, and how poetic language articulates Being in our rapidly changing world. 
In addition, I am further interested in borders, limits, silence, and different constitutions of time. In a broader sense, I'm working to elucidate existential questions at the intersection(s) of philosophy, cultural studies, and literary and visual texts. My research is primarily in modern Swedish and German literature, with a growing interest in English, Russian, and French traditions. I have also worked on questions of nation, identity, memory and temporality in Scandinavian cinema and prose. The connection with popular culture and the public at large underlies all these questions.
Off campus, I enjoy rowing, hiking, running, spazieren gehen, cats, dogs, and water. I've studied in Uppsala, Stockholm, Aachen, and Tórshavn. I often teach Swedish classes at the Nordic Museum with the Scandinavian Language Institute. I grew up on a farm in Minnesota. My (current) favorite book is The Waves by Virginia Woolf.