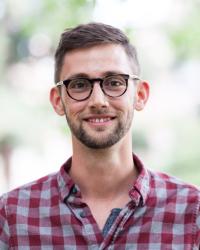 Contact Information
Office Hours:
mån, ons, fre 10.30-11.00
Biography
B.A., German, Scandinavian & Dutch, University of Minnesota, 2017
I am a graduate student in Scandinavian Languages and Literature, currently teaching the first-year Swedish courses. I grew up on a farm in Minnesota but now I live in Ballard. I enjoy running, rowing, reading, hiking, trees, and, of course, the sea. Once upon a time, I came across the Swedish poet Katarina Frostenson's collection Flodtid, which catalyzed my study of literature. I also have a strong interest in film and am thus also completing the graduate program in Cinema and Media Studies.
I am interested in the intersections between twentieth-century philosophy and texts, be they poetry, film, or prose. I'm currently thinking in two coalescing nodes. The first pays attention to the existential and phenomenological aspects of poetry. The second focuses on language as it is fundamental to human existence, subjectivity, and poetry's liminal position in and around being and language, as well as its materiality. I am also thinking about the soci(et)al aspects of poetry. I am additionally curious about the metaphysics of "silence," language and death, music and national identity, and philosophy and/of film. Beyond the Department of Scandinavian Studies, I occasionally teach intermediate/advanced Swedish at the Scandinavian Language Institute at the Nordic Museum in Ballard.