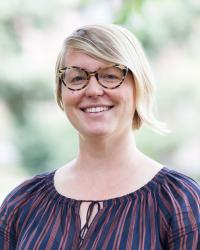 Contact Information
Office Hours:
Office hours will be held online during spring 2020: SCAND 367, see our Canvas page; others, please email me for an appointment
Biography
Ph.D., Comparative Literature, University of California, Irvine, 2012
M.A., Performance Studies, New York University, 2003
B.A., Norwegian, University of Washington, 2002
B.A., English, University of Washington, 2002
Olivia Noble Gunn is Assistant Professor and the Sverre Arestad Endowed Chair in Norwegian Studies in the Department of Scandinavian Studies at the University of Washington, Seattle. Her research interests include Norwegian literature and culture after 1880, comparative literature, performance studies, feminism, critical race theory, and queer theory. She is motivated by big questions about morality, propriety and the limits of living and thinking. Olivia has published research on the dramas of Henrik Ibsen and figures of the child; on constructions of the family; and on class, gender, and racialization in Norwegian literature and film. Her teaching interests range from the modernist Norwegian novel to representations of sexuality in the Nordic countries. She is currently serving on the MLA Executive Committee for the Forum CLCS Nordic and as the President of the Ibsen Society of America. Born and raised in the Pacific Northwest, Olivia enjoys maintaining connections with Scandinavian American communities on the west coast through public facing talks.