Professor; Graduate Program Coordinator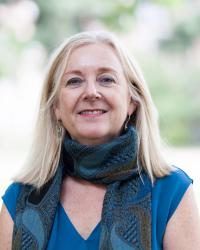 Contact Information
Office Hours:
Wednesdays, 2:00 - 4:00 pm or by appointment.
Biography
PhD, Scandinavian Languages & Literatures, UC Berkeley, 1990
MA, Scandinavian Languages & Literature, University of Washington, 1981
BA, History and Scandinavian Languages & Literature, UC Berkeley, 1978
Marianne Stecher is professor of Danish and Scandinavian Studies and works in literary and cultural studies. Marianne oversees the Danish program at UW and teaches undergraduate and graduate courses in Scandinavian literature and culture as well as courses in the  European Studies program.   She has published scholarship on Danish writers,  Isak Dinsen (Karen Blixen), Thorkild Hansen, and Hans Christian Andersen among others, and served as volume editor for two reference works on Danish writers. Her recent book, The Creative Dialectic in Karen Blixen's Essays – On Gender, Nazi Germany, and Colonial Desire (2014) attracted wide attention in the Danish press. Her current book explores Nordic history, fiction and film about World War II in the context of cultural memory; it is an edited collection entitled Nordic War Stories (Berghahn Books).  Professor Stecher also serves as Graduate Program Coordinator for the graduate  program in Scandinavian Studies and on various committees and advisory boards, including American Scandinavian Foundation grants and fellowships committee (2011 - 2018); Danish Academic Network in America (past president 2012-2018);  the Gudrun Gytel Scholarship Fund; and MLA: Modern Language Association (CLCS Nordic, executive committee 2015 - 2020).